Find what you are looking for…
Our double acting Pick Up Hitch is one of the most popular items we produce. Our standard range of hitches are shown below, however if your machine is not listed please call the sales team to discuss, in most cases with the right information we can built a hitch to suit your requirements. The Cherry range of hitches are rated to tow 10 tonne and lift 2 tonne.
Although only the standard range is listed, we have done models in the past for JCB Loadalls, Manitou, Bobcat and John Deere Forage Harvesters.
To find out where your nearest Cherry Products Dealership is click here.
| Part No. | Description | RRP |
| --- | --- | --- |
| PUH02/NHFR | New Holland Forage Harvester FR9000 Pick Up Hitch | £3,365 |
| PUH02/JDFR | John Deere Forage Harvester Pick Up Hitch | £3,365 |
| PUH02/KRFR | Krone Forage Harvester Big X Pick Up Hitch | £3,365 |
| PUH02/CNH | CASE IH / New Holland LM Telehandler Pick Up Hitch | £2,225 |
| PUH02/MER | Merlo Rear Mounted (Not 26.6) Pick Up Hitch | £2,225 |
Please note: Our hitches are not supplied with the bolts or hydraulic pipework to fit it onto the desired machine. We offer a fitment service for £750 RRP. You would have to organise transport for the machine to and from us.
As standard our hitches are produced to tow a trailer at a running height of approximately 460mm (18 inches). If you require different please specify when you come to order.
Travel range on Telehandler Hitch, 457mm (18 inches). Travel range on Forage Harvester Hitch, 547mm (21.5 inches).
| Part Number | Description | RRP |
| --- | --- | --- |
| PUH/IBTELE | Internal Telescopic Casing w/ Hook & Bushes | £600 |
| CP11CP11 | Hydraulic Cylinder (for standard Telehandler hitches) | £350 |
| CP27CP27 | Hydraulic Cylinder (for Forage Harvester models) | £395 |
| PUH/AUTOLH | Auto Latching Hook (Pair) | £205 |
| PUH/LSPR | Latch Arm Spring (Pair) | £45 |
| PUH/CP | Latch Arm Connecting Plate | £120 |
| PUH/P01 | Top Ram Pin 25mm DIA 120mm Long | £35 |
| PUH/P02 | Bottom Ram Pin 25mm DIA 200mm Long | £35 |
| PUH/RPIN | Roll Pin 6mm DIA x 50mm Long (Pair) | £20 |
| PUH/HANDCAB+2012 | Handbrake Type Release Cable (from 2012 models onwards) | £165 |
| PUH/CAB-2012 | Handbrake type release cable (pre 2012 models) | £165 |
| CT13 | Check Valve | £155 |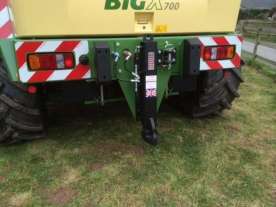 ATTACHMENT_OPERATING_INSTRUCTIONS_.PDF